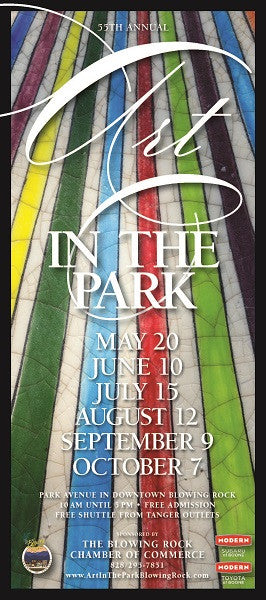 New Event! Blowing Rock Art in the Park - 9/9 and again on 10/7
We'll be doing this show on two different dates!
More details:
Art in the Park was created in 1962 by a handful of area artists and craftspeople to showcase local talent. Today, Art in the Park is host to 90 artisans at each show. Some of the best local and regional artists and craftspeople showcase their handcrafted jewelry, pottery, fiber, glass, photography, painting and more.
Art in the Park's high standards and professional jury attract artisans from all over the Southeast to exhibit in a series of six shows, May through October. The quality of work exhibited draws thousands to the area each month.
Art in the Park is planned and administered by the Blowing Rock Chamber of Commerce. The Chamber takes pride in working to support and showcase top talent over a variety of mediums at each show. The town and area businesses are enthusiastic and participate with Art in the Park, and the public eagerly anticipates each season.
Dates:  September 9th and again on October 7th
Hours:  10am to 5pm
Parking: Free parking downtown on the street and in the parking decks on Wallingford St. and at BRAHM.  Free trolley to and from parking areas at Tanger Outlets and Food Lion, all day, looping every 15 minutes.
Google directions: